76%
of past players experienced serious injuries in their football career
64%
of those who reported serious injuries are still affected in daily life by their AFL/VFL injuries
60%
of those who reported serious injuries require ongoing treatment for old football injuries
6%
have treatment costs covered by their AFL/VFL club or the AFL Player's Association
"If you want someone to get the best out of you and care for you while doing it, Jacko is definitely the guy.

Paul Roos

AFL Premiership Coach and Hall of Famer
Are you a past AFL player carrying injuries sustained in your career?
"He fully commits, he really cares and he'll never let you down. I encourage anyone who wants to turn themselves around physically and mentally to get involved with Rob.

Ross Lyon

AFL 3x Grand Final Coach
Sore shoulders? Stiff ankles? Old knee injury?
"When you spend as much time hanging in the air like I did, playing at the highest level, you're going to wear some damage from a landing here or there. I'd never heard of PRP or hyundai—whatever it's called-acid but both knees are back to their best and the shoulder is strong enough to carry the league once more. The Wiz is better than ever!

Warwick Capper

4x Sydney Swans Leading Goal Kicker (1984-1987) and Mark of the Year (1987)
There are new treatment options available to help get you moving and feeling better
+
Supported and reimbursed by AFLPA

"15 years of playing AFL and countless surgeries was always going to leave wear and tear. Jacko looked after my strength program in 2010/11 so I reached out about my knee issues. He arranged PRP treatment, handled all the paperwork and within weeks I had 100% of the money back in my account. I've since had the other knee plus dodgy shoulder treated and not only is it great for the body, but just as importantly, for my mind! To be able to move freely and get back into training with the ongoing program advice from Jacko has been invaluable.

Michael Gardiner

All Australian (2003)
Simple, Hassle-Free Process
"After retiring from AFL, there was no longer the docs and support I'd been used to for over a decade. Working with someone who understands our needs gave me confidence and the process couldn't have been simpler. The knee that effectively ended my career has improved heaps and I'm now getting the shoulder treated with ongoing support provided.

Luke McGuane

Retired AFL Player (112 Games)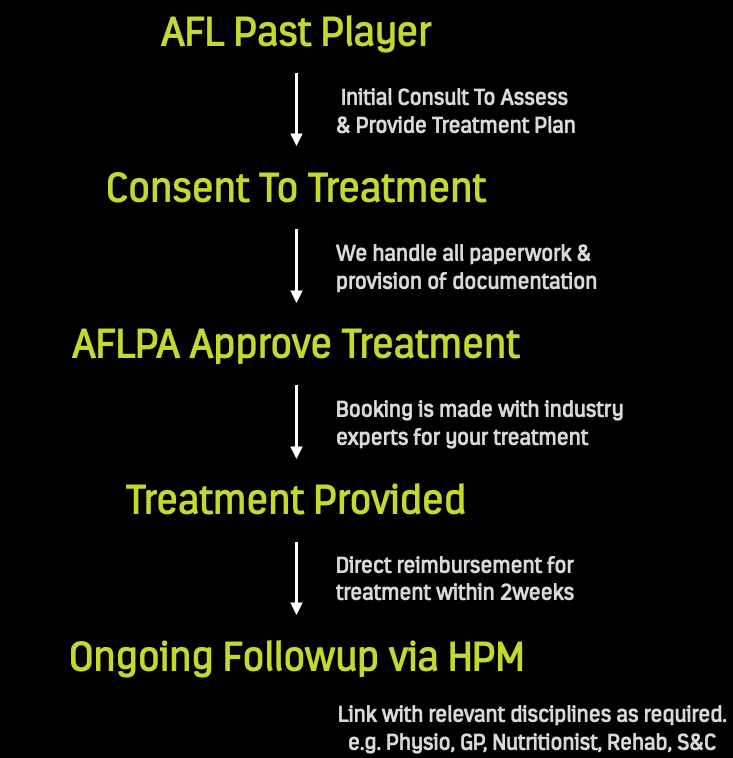 "I have struggled with a degenerative ankle for the past 12 years where now I can't run anymore. Rob's lateral thinking and expertise has helped me maintain a healthy lifestyle with alternate training methods post my career. Rob genuinely cares about the athletes he works with and continues to check in with me regularly, many years post my career.

Sam Blease

Retired AFL Player
"We have a responsibility to provide the game's past players with the quality and depth of service accessible at clubland to ensure they continue contributing to our community in a positive, meaningful way. The Past Player Support Network is a custom-built program to link past players with a High Performance Manager for ongoing personalised support.

Rob Jackson

High Performance Manager (AFL)